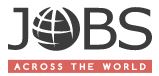 What Is Jobs Across The World?
Jobs Across The World offers a comprehensive global online employment solution. Our commitment is to link job-seekers and employers. International applications are accepted for all positions in all sectors no matter the location of the job-seeker or company. The mission of the company is to allow the perfect match between people and companies seeking the best talents for the best job positions.
Today's intertwined global economy shows a growing trend of workers being willing to relocate to where jobs are available, even if that means another country, to take advantage of the employment opportunities. Hundreds of thousands of skilled immigrants relocate each year to countries such as the United States, the United Kingdom, United Arab Emirates, Taiwan, Singapore, New Zealand, Germany, Canada, Australia, and others, in order to work, live, and take advantage of the opportunities that are there.
How Jobs Across The World Can Help

With today's growing trend in the interconnected global economy, workers are likely to relocate to another country where jobs are available. Jobs Across The World has seen this pattern develop and they have created an extensive and successful global online employment solution. They bring job-seekers and employers together on a daily basis.